One of the great competitive advantages offered by Microsoft Dynamics 365 Business Central with respect to other ERP's in the market is the native integration with other Microsoft productivity tools, such as Office 365 – (which includes, among others, Word, Excel, Outlook). Let's review in the following article in which way you can integrate the Office 365 apps and tools with Dynamics 365 Business Central, the functional possibilities and its restrictions regarding releases.
Send Data to Excel, Word or e-Mail
Dynamics 365 Business Central with Office 365, offers us the possibility of sending our ERP data to Excel, Word or e-Mail at any time. From any report we have the option to "print or send" and then select the alternative that best suits needs at any time.
To carry out this action in Business Central, it can be accessed through the history of delivery notes, clicked on the button Print -> Send to … and then is possible to select the desired option as shown in the following image.
Excel Add-in in (Windows Client)
In a Microsoft Dynamics NAV or Business Central installation, if working from the Windows Client, it can be selected the installation of the Excel Add-in. This option is not available if it is obtained from the Web Client. This add-on allows your business to export data from ERP Dynamics 365 Business Central to Microsoft Excel. Once the data has been exported, a complement will be enabled to refresh the data at any time in the related Excel document. With the add-in the insertation or modification of data from Excel to Dynamics 365 Business Central is disabled.
Excel Add-in (Server)
Unlike the previous option, this Excel Add-in is installed on the server next to the second layer of Dynamics Business Central. With this Add-in the option "Edit in Excel" is enabled within Business Central, which allows us to export the data in an Excel workbook and, as a great novelty, we can modify the data directly from Excel and re-publish them in our ERP without leaving Excel (as can be seen in the following image).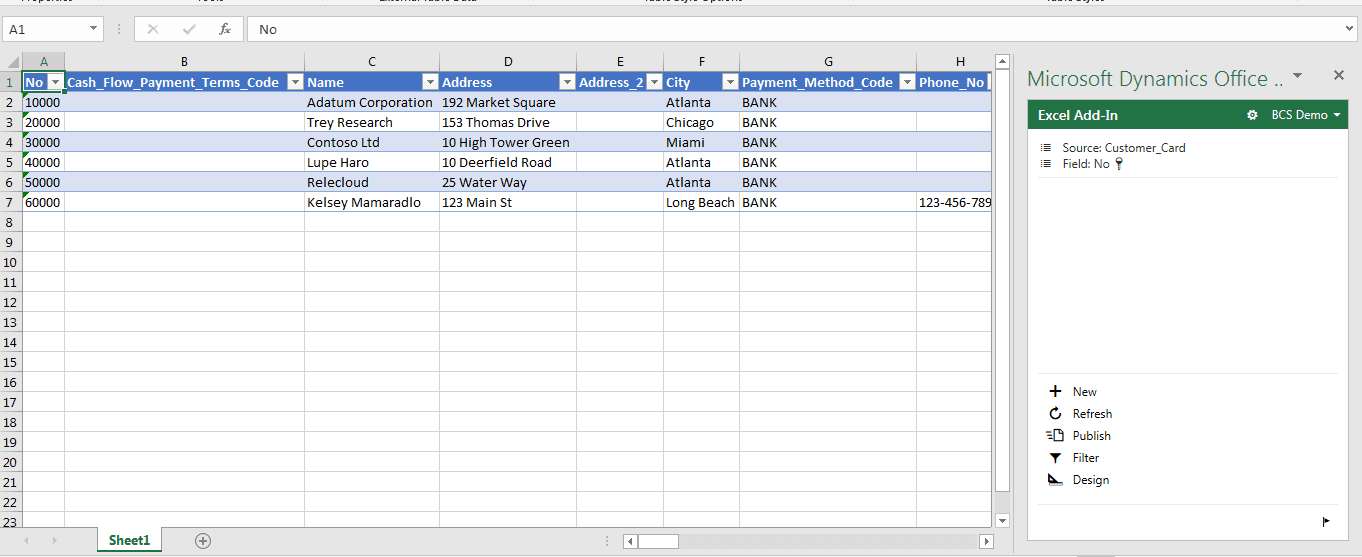 To implement this function it will be necessary to meet the following requirements:
Users will have to authenticate with Azure Active Directory (Azure AD). Both the second layer clients and users will have to be configured as Nav (BusinessCentral) UserPassword, Azure Access Control, or Azure Active Directory
Enable OData authentication using SSL
Install and configure the web environment to use SSL
Use a compatible version of Excel (Office 365, Excel 2019, 2016, or 2013 SP1)
Business Central Integration with SharePoint
Business Central can be configured to export the data to dedicated SharePoint. In the installation of the Business Central server, the SharePoint plugin with its respective .DLL files is installed by default.
To relate the ERP with respected SharePoint account, it would be needful to open the search engine and type "Microsoft SharePoint Connection Settings". You only have to indicate the necessary data to connect and your ICT partner will have the integration in progress.
Business Central Integration with OneNote
Users can synchronize their notes from Dynamics 365 Business Central to OneNote to share notes, images and recordings, among other types of files. By dragging and dropping files into a OneNote note, a dialog asks if you want to insert a copy of the file or link to it. Inserting files like this will allow everybody that has access to the Notebook to open the file.
Microsoft Outlook Add-in (Client and Server)
It allows meetings, contacts or tasks of our Business Central agenda to be synchronized in a directional or bidirectional way with Outlook email manager. The Outlook Add-In must have been previously installed on server and it must be certain that the users are properly configured. Once this user configuration has been reviewed, from Outlook it will be indicated in which folders the meetings, contacts or tasks will be synchronized.
Office Add-in for Outlook
This add-on allows a native and total integration between Business Central and Outlook – the users who work with both tools will be able to carry out their tasks without leaving their email. As starting point, Outlook identifies that the email of the person who contact you belongs to the e-Mail of a Business Central contact. From that reason, it shows you a small logo in which is possible to see and read "Business Central". If clicked on it, a small tab opens in which you can consult about all the relevant business information, relevant to your contact and your company. All the data shown are navigable, which means if clicked, it can lead you to access the information of the related data/query creation.
Business Central with Office 365
This integration also allows you to send documents (such as the sale offer in our video) directly from Outlook without opening Business Central.
To configure this complement we must meet the following requirements:
Configure the web server to use SSL
Users will have to authenticate as NavUserPassword, Azure Access Control or Azure Active Directory
How can ITAF manage Dynamics 365 Business Central integration with Office 365?
Our Dynamics 365 Business Central consultants will lead the process of integration with Office 365 and help you achieve the best performing results in terms of business workflow and business efficiency Dynamics 365 Business Central brings. Contact us, send us your query and we will be glad to help you.